Edinburgh based graffiti artist and illustrator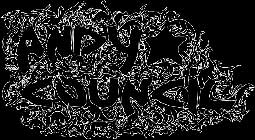 Andy Council's unique style straddles the worlds of Street Art and illustration. Urban landscapes and history of graffiti in Bristol have had a big influence on his work as has his fascination with urban myths and beasts.
Andy's creations include bizarrely intricate collections of creatures, from rabbits made of tanks to dinosaurs mobilised by streets and landmarks.
www.andycouncil.co.uk
andycouncil.blogspot.com
flickr.com/photos/andycouncil
twitter.com/AndyCouncil


Bristol based graffiti artist. One half of the Fram Yardeez with Andy Council. Rowdy's artistic career has been relentless; establishing in 1987 when he became an integral part of the bristol grafitti scene, his work appears throughout europe and can be found in the most unlikely places, from underground rural settings to highly visable urban reaches. Rowdy's trademark crocodiles are often huge in scale and are indicative of the playful nature of the imagery in his work, and long may we continue to see oversized mice and crocs attacking our walls. Check out his quarry pieces, they real nice.


The Too Much Fun Club is an art collective based in Edinburgh, the name gives away a large part of the clubs agenda... Best known for doing live illustrations and murals in night clubs around Edinburgh.